Regular price
Sale price
$29.95 USD
Unit price
per
On Sale!
Sold out
Save 15% off your first order with code SAVE15
Share
Hand Assembled in the U.S.A.

100% Natural Stone Beads

Free standard shipping on all orders over $50
Sizing Information

The sizes shown are based on wrist size, not overall bracelet size. Using a soft tape measure, wrap the tape measure around your wrist approximately half an inch up your arm from your wrist joint. We recommend the bracelet fit slightly loose on the wrist ensuring no excessive wear on the cord. If you have any questions about sizing before placing your order, don't hesitate to contact us
Care and Use

Avoid contact with any chemicals or harsh cleaners to ensure long life of the stretch cord. While the cord is very strong and made to last, do not over stretch when putting on and taking off your bracelet to avoid strain or damage to the cord.
10mm Natural Stone bead bracelet with Amazonite, matte onyx stone beads, and stainless-steel accents.  Assembled with USA made industrial strength stretch cord.
*Note we only use non-color enhanced natural stone. The pattern and colors of the stone beads used in each bracelet are different and unique, it will vary slightly from the pictures shown.
Amazonite: Stone was used by the ancient Egyptians to create jewelry, particularly in the form of amulets and beads. It was believed to have protective powers and was often worn by pharaohs and other important figures.  Amazonite stone has a rich history of use in various cultures throughout the world, and continues to be used today for its beauty and healing properties.
Onyx: Stone has long been used as an ornamental gemstone in a variety of cultures.  Onyx stone also has powerful metaphysical properties that have been revered by many ancient civilizations. It is believed to offer strength and protection from negative influences, while helping to clear mental confusion and bring emotional balance.
View full details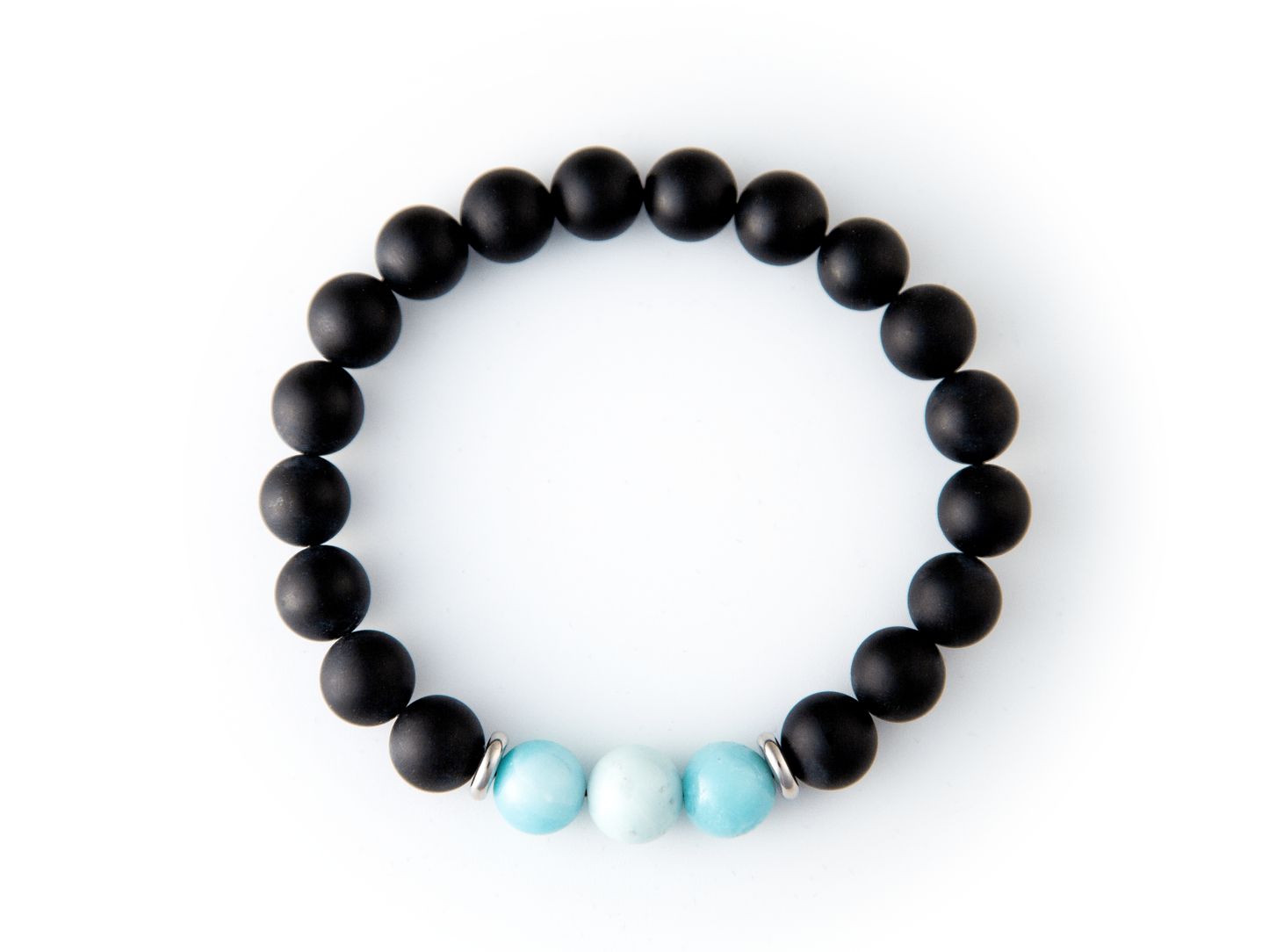 Great quality and service
I purchased the "Osiris" Natural Stone Bead Bracelet Amazonite and Matte Onyx recently and was really impressed with the quality of both the stones and the elastic thread used for the band. It has a good weight to it and feels really durable. It was sized perfectly for my wrist, I love the custom sizing option. I was also surprised and excited about how fast I received it, it took 4 days in total from purchase to delivery. Highly recommend!